CKS Millwork Design: Tucker Hall Renovation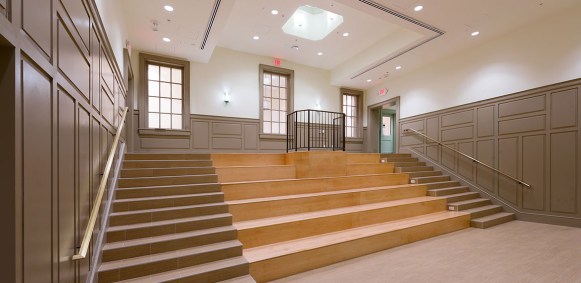 The renovation completed by CKS Millwork of Tucker Hall involved classrooms, an auditorium, faculty space, meeting rooms, and one large theater with sloped floor seating.
The building had undergone two additions since the original construction (the last one being completed in 1928), resulting in misaligned floors, disjointed circulation, and an overall lack of unification. To integrate the disparate parts of the building, incorporate natural light, and celebrate its well-loved features, the design preserved and updated an existing stair hall, re-opened a previously closed cupola, and created a tiered student commons as a means to facilitate student and faculty interaction.
The scope of work included interior demolition, asbestos abatement, an overhaul of the building's utility systems, and technology upgrades in the classrooms, as well as the adjustment of room layout and sizes. The modernization of all four levels completed by CKS gave the English wing of Tucker Hall an updated and sophisticated look.