FEATURED: CKS Design Studio in National Magazine "Distinctive Kitchens"
The custom kitchen design and custom bath designs by CKS in Durham have been featured by Distinctive Kitchen Solutions, a national consumer publication that can be found at select bookstores, drug stores, grocery stores and home-improvement stores. Created in 2003, the magazine has a national circulation of 250,000.
"We review far more than the 42 kitchens ultimately showcased in each issue of Distinctive Kitchen
Solutions magazines. Final selections are made based upon each room's use of gorgeous colors and materials,
clever floor plans and the latest design trends," according to the magazine's managing editor Mara Bragg.
The CKS kitchens featured in the issue belong to the Mesaros family of Chapel Hill, the Kuhn and Lacy
families of Durham and the Ragsdale family of Jamestown, N.C.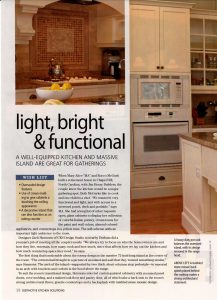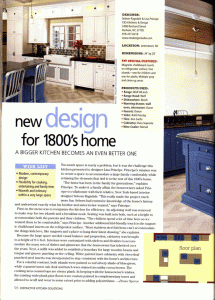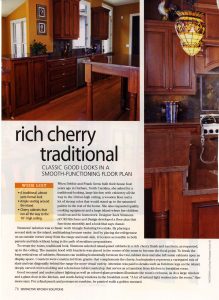 CKS kitchen designer Zack Simmons worked with local interior designer Lucinda Poole to design the
Mesaros kitchen. Simmons and Poole created a kitchen that features an abundance of natural light, a large
island complete with a microwave sliding drawer as well as an arched pass-through to the adjoining family
room.
For the Kuhn kitchen, Simmons worked with local interior designer Julie Staelin to design a dream
kitchen for the empty nesters who wanted to fill their kitchen with color and personality. The kitchen features a
curved island full of multiple drawers with deep holding capacity. A variety of paint colors and stains
modernize the two-decade-old kitchen while giving it a stylish edge.
Simmons and Staelin also worked together to design the Lacys' kitchen. Color was once again used to
update the kitchen and display the homeowners' personalities. The kitchen design features an expanded wine
rack set off with a splash of color, as it is one of the first elements seen when entering the house. An open shelf
unit beside the wine rack is also used as a design element to break up the wine rack. Previously, the entire
kitchen was white so adding a variety of colors made a huge impact despite the fact the footprint of the kitchen
remained the same.